Cloud storage is not a new concept. However, it is only recently that various businesses and interested individuals have turned to online storage platforms as their primary solution to backing up their valuable data. Apparently, you can now upload, download, store, share, access and backup all your data conveniently and securely using these cloud storage platforms.
The best part is that all these services are available for free, especially if you intend to back up your data on a temporary basis. Nevertheless, you are encouraged to upgrade to premium membership to enjoy a wide range of added benefits.
A good cloud storage platform that you should consider is Emload.com. This comprehensive review explains the reasons why we consider Emload.com as one of the best online storage platforms.
Introduction to Emload.com
Emload.com is a free online storage platform that allows you to store, share and manage your files and documents. You will be able to manipulate and manage your data without using your own physical devices such as USB flash drives and external hard disks.
The company is headquartered in Spain, and it has been in operation for over 3 years. Since its launch in 2015, Emload.com has experienced significant growth to claim its rightful place as one of the best cloud storage platforms available today.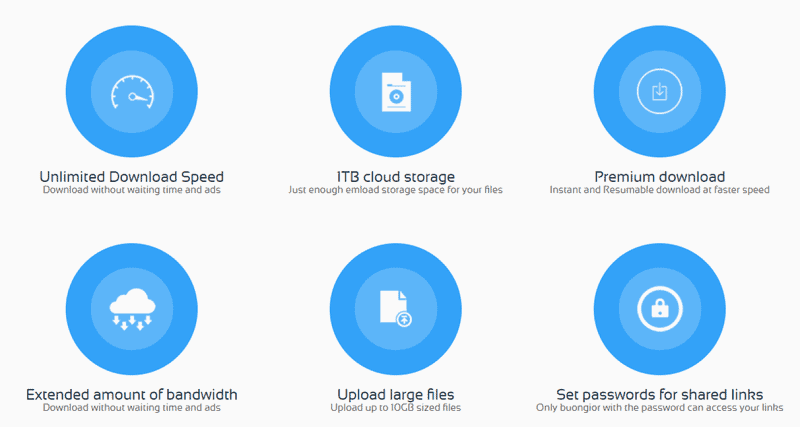 Emload.com Premium Membership
Like most online storage platforms, signing up with Emload.com is 100% free. However, free membership comes with a number of restrictions, ranging from limited storage space to restricted download speeds. To avoid all these shortcomings, you are advised to upgrade to Emload.com premium.
| | | |
| --- | --- | --- |
| Account Type | Free User | Premium User |
| Download Speed | Low | Unlimited |
| Cloud storage | Limit | 1TB |
| Bandwidth | 1 GB/Daily | 35GB/Daily |
| File Size Limit | 1 GB | 10 GB |
| Parallel Downloads | No | Yes |
| Start Immediately | No | Yes |
| Download without waiting time | No | Yes |
| Download without waiting ads | No | Yes |
| Set passwords for shared links | No | Yes |
Here are the benefits of becoming a premium member
Unlimited Download Speed: Whether you are a free account holder or a premium member, Emload does not limit its members when it comes to download speeds so long as your internet connection supports it. This platform supports fast, unlimited download speeds as provided by your internet service provider.
Multiple upload options: With premium membership, you can upload your files using three different methods. The first option allows you to upload your files directly from your computer using your browser. Secondly, you may upload data remotely using a special upload link that directs authorized users to a specified file server. Lastly, you may use the FTP client app to upload your files conveniently to the Emload servers. What's more amazing is that members are allowed to upload any type of file, including photos, videos, audios, contact information, bookmarks and other documents.
1TB Cloud Storage: Emload.com offers storage space of up to 1 GB with free membership. However, premium members enjoy up to 1 TB of storage. With 1 TB of space, you can worry less about backing up your data. What is more amazing is that Emload allows for custom storage plans that you can utilize if you need more space for your data.
Resumable Download: With premium membership, you stand to enjoy instant and resumable download options. In essence, you can pause your upload or download process and resume at any time without having to go through the entire procedure all over again. This prevents the possibility of uploading broken links or downloading broken or corrupted files.
No Download Delays: The essence of becoming a premium member on this platform is that you can download your files instantly with no delays. Furthermore, Emload allows you to download files without experiencing frustrating timeouts in between downloads.
Say Goodbye to Ads: Most online platforms make money through sponsored ads on their websites. However, too much of these ads might prove to be a nuisance. Nevertheless, with a Emload premium account, you can say goodbye to all the ads that continuously pop up during an upload or download process.
Extended amount of bandwidth: Emload offers an extended amount of bandwidth of up to 35 GB daily, subsequently allowing for parallel downloads. However, the company does not state how many files you can download at the same time. Nevertheless, we believe with parallel downloads, you may save multiple files at once without waiting for the completion of each download process.
Supports large files: Unlike free membership that limits the maximum size of the files you can upload, Emload premium members enjoy upload limits of up to 10 GB. Essentially, you may upload heavy, large files of up to 10 GB at a time.
Supports multiple devices: Another benefit of this platform is that you can access your files at any time from any device. Emload is compatible with most devices ranging from PCs to tablets.
Secure links: As a premium account holder, Emload.com gives total control over your files and documents. You can set passwords for all your shared links in that only authorized people who have the password can access your shared files. This is a great way of securing your files and preventing unauthorized use of your data.
Reasonable price plans: Emload offers reasonable price plans for premium membership. You may pay €14.95 for 30 days, €29.95 for 90 days, €51.95 for 180 days or €73.95 for 356 days. All these plans come with 1 TB storage and 35 GB daily bandwidth.
| | | | |
| --- | --- | --- | --- |
| € 14.95 | € 29.95 | € 51.95 | € 73.95 |
| Monthly | Quarterly | 180 Days | Yearly |

Is Emload Safe?
Emload.com is 100% safe. The company takes security matters with the seriousness it deserves to ensure that all your files are safe. Emload uses 128-bit SSL encryption to protect your data during transfer. The fact that you can also set passwords for your shared links also protects your data from unauthorized access.
Customer Support
Emload offers astute help desk services to all their members. The support team is available on a 24/7 basis, and you may seek help by sending an email to the provided address. The official language of correspondence is English, but this platform supports other languages such as Spanish.
Conclusion
Online storage platforms such as Emload.com are here to stay. However, for you to make the most of these cloud storage platforms, it is advisable that you become a premium member. An Emload.com premium account comes with loads of extra features that are tailored just for you. Furthermore, the price plans are reasonable. Bearing all these in mind, can you afford not to become a premium member?